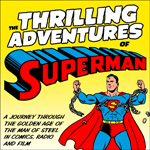 Welcome to episode 16 of The Thrilling Adventures of Superman. The show's mission is to explore the history and development of the Superman in his formative years by chronicling the Man of Steel's Golden Age adventures in comics, radio and film.
We're sticking with the daily strip for a second episode in a row as Michael look at the fourth storyline from the Superman daily newspaper strip. Clark Kent, promoted… Lois Lane, demoted?! That's right… Lois makes her largest appearance in the newspaper strip to date — only to get demoted back to the Lovelorn column! Scheming to get her job back, she gets on to the trail of a wife-beating, jewel-smuggling nogoodnik and hilarity ensues. It's only a 12-strip story, but Lois is still as full-on crazy as her comic book counterpart. Fun times! Also this episode, Michael concludes his two-part Spotlight on Superman's co-creator, artist Joe Shuster.
QUOTABLE:
Oh, how I hate Clark Kent! — I tell you, he deliberately set out to take my job from me!
–Lois Lane
Intertitles for this story:
– The strips comprising this story did not have intertitles in the reprints. Not all papers ran the intertitles and it is possible the source for this strip was from one that did not.
Links mentioned in the episode:
– Newspaper dailies at DCComics.com
Download the episode directly. Or, you can subscribe to the show via iTunes or the RSS feed! You can connect with show on Facebook, as well, to get updates! The Thrilling Adventures of Superman is also a proud member of the Superman Podcast Network.
Questions or comments? Additions or corrections? Drop a line! Share your thoughts on the episode and the issue.