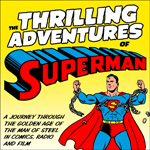 Welcome to episode 55 of The Thrilling Adventures of Superman. The show's mission is to explore the history and development of the Superman in his formative years by chronicling the Man of Steel's Golden Age adventures in comics, radio and film.
Michael is joined by J. David Weter for a look at four thrilling Superman tales from SUPERMAN #5. Follow along as Superman smashes and trashes a variety threats from slot machine rackets, crooked newspapermen, life-giving drugs and an incense menace, courtesy of the nefarious Luthor! Plus, more of Superman's powers bubble to the surface and the guys uncover helpful hints on how to take over the world! (Hint: It involves not making statues of yourself to be use in your schemes.)
Be sure to check out J. David Weter's solo show, PADsmash: An Incredible Hulk Podcast, and catch him regularly on Green Lantern's Light with this podcast's host and Jeffrey Taylor, Superman in the Bronze Age with Charlie Niemeyer and The New 52 Adventures of Superman with Jon Wilson and Michael Kaiser. A huge thanks once more to Mr. Weter for coming on the show.
QUOTABLE:
I'll play unconscious just for laughs.
–Superman
Download the episode directly. Or, you can subscribe to the show via iTunes or the RSS feed! Questions or comments? Additions or corrections? Drop a line! Share your thoughts on the episode and the issue. You can connect with show on Facebook and Twitter, as well, to get updates!
The Thrilling Adventures of Superman is also a proud member of the Superman Podcast Network. And don't forget to check out the Superman Homepage!