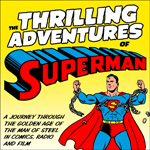 Welcome to episode 67 of The Thrilling Adventures of Superman. The show's mission is to explore the history and development of the Superman in his formative years by chronicling the Man of Steel's Golden Age adventures in comics, radio and film.
Metropolis faces a new menace in the form of "the Unknown" — a fiend who terrorizes the city, demanding the authorities allow bank robberies to occur, or bombings will tear through the city! Can Superman get to the bottom of things and unmask "the Unknown" before it's too late?! Well, of course he can. He's Superman. Duh. But find out how he does it as Michael looks at the 15th storyline from the Superman daily newspaper strip!
QUOTABLE:
Superman! –Then my boy's safe!
–Woman
Intertitles for this story:
Paging Reporter Kent!
A Silent Politician.
Lois Has a Brainstorm
Afterthought
A Girl of Action!
Clark's Predicament
Who's Seeing Things?
Dirty Work at the Crossroads?
A Run for Their Money
Double Trouble.
Man Beats Bullet!
Can We Bank on Superman?
Gentle Persuasion!
It's a Deal.
Four Minutes to Go!
Floating Power.
Right to the Second!
Just Between Us
"The Unknown" Threatens
Help!!
Go to It, Superman!
"The Unknown" Strikes!
When Split-Seconds Count!
Close — That — Gap! —
Joy-Ride!
Safe and Sound!
Murder at The Daily Planet
Lois Makes a Hit
Superman Steps In
In Person!
Gang Buster
According to Plan
Spotted!
Down, But Not Out
The Hitch-Hiker.
"Gentle" Persuasion.
Contact!
"The Unknown" Speaks!
Getting Warm!
Passing the Bucks
Patience!
Superman Acts!
"The Unknown" Unmasked!
Held at Bay!
Man of Action
Lives at Stake!
Lois Scores Again!
(Strip 430 does not have an intertitle in the reprint. Not all papers ran the intertitles and the source for this strips was one that did not.)
Download the episode directly. Or, you can subscribe to the show via iTunes or the RSS feed! Questions or comments? Additions or corrections? Drop a line! Share your thoughts on the episode and the issue. You can connect with show on Facebook and Twitter, as well, to get updates!
The Thrilling Adventures of Superman is also a proud member of the Superman Podcast Network. And don't forget to check out the Superman Homepage!