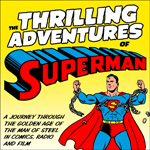 Welcome to episode 68 of The Thrilling Adventures of Superman. The show's mission is to explore the history and development of the Superman in his formative years by chronicling the Man of Steel's Golden Age adventures in comics, radio and film.
Michael is joined by Josh Bertone for a fun-fill romp through four brand new Superman adventures from SUPERMAN #6. The issue sees the Man of Steel taking on a variety of challenges as he attempts to clear Lois Lane's name after she's accused of murder, takes on racketeers and swindlers, and helps deliver aid to a earthquake-ravaged country. Plus, someone discovers that Superman and Clark Kent are one in the same. Can our hero stop the secret from getting out? All in a day's work for Superman.
Be sure to check out Josh Bertone's solo show, Bertone Beatle Bonanza and catch Josh regularly on Clone Saga Chronicles and the Spider-Man Crawlspace! A huge thanks once more to Mr. Bertone for coming on the show.
QUOTABLE:
("-Good grief! He's seen the transition from Clark Kent, meek reporter, to Superman! If he suspects…!-")
–Superman
Links mentioned in the episode:
– "The Devil and Lois Lane!" from SUPERMAN'S GIRL FRIEND, LOIS LANE #41 is among Josh's favorite Superman stories.
– Michael mentioned the first cover appearance of Clark Kent, but couldn't recall the issue number. That would be SUPERMAN #16.
– Josh also mentions a very late Silver Age tale where Lois is accused of the murder of Lana Lang. As he says, this story in "Is Lois Lane Guilty?" from SUPERMAN'S GIRL FRIEND, LOIS LANE #99 and "Lois Lane's Last Mile!" from SUPERMAN'S GIRL FRIEND, LOIS LANE #100.
Download the episode directly. Or, you can subscribe to the show via iTunes or the RSS feed! Questions or comments? Additions or corrections? Drop a line! Share your thoughts on the episode and the issue. You can connect with show on Facebook and Twitter, as well, to get updates!
The Thrilling Adventures of Superman is also a proud member of the Superman Podcast Network. And don't forget to check out the Superman Homepage!