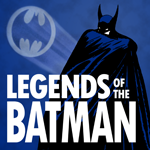 Welcome to episode 28 Legends of the Batman, the show covering everything Batman — from the beginning! The show's premise is a simple one. Each episode, we cover a month (or so) of Batman, be it comic books, television, movies, whatever, starting with his first appearance in 1939.
This week, Michael Bradley and Michael Kaiser take a break from their normal monthly coverage format to look back at their first completed year, going over the pros and cons, the ups and downs, the lefts and rights of all the Batman material released in 1940. And at the end of the show, the two give their votes for the bests and worsts of the year!
Click here to see the post at BatmanLegends.com, the site's home base, to download the episode or subscribe to the show.