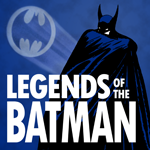 Welcome to episode 23 Legends of the Batman, the show covering everything Batman — from the beginning! The show's premise is a simple one. Each episode, we cover a month (or so) of Batman, be it comic books, television, movies, whatever, starting with his first appearance in 1939.
Michael B. and Michael K. continue their coverage of BATMAN #3, as Batman and Robin take on the seedy underbelly of a criminal organization composed of…children? That's right, it's their most juvenile adventure yet as the Dynamic Duo tackle the case of "The Crime School for Boys!"
Click here to see the post at BatmanLegends.com, the site's home base, to download the episode or subscribe to the show.