Spotlight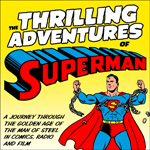 One of the goals I had when I started "The Thrilling Adventures of Superman" was to bring more attention to those who have given us Superman stories for nearly 75 years.
We would not have Superman without Jerry Siegel and Joe Shuster. However, the Superman legend as we know it today has been built by many hands throughout the years.
With the Spotlight feature, I aim to focus attention on those people — many of whom went unsung and uncredited for years, and often still do — by sharing information about their lives and careers, both in connection with Superman and beyond.
I am pleased to have been able to present 12 Spotlight features so far and hope you enjoyed hearing and learning from them as much as I did researching and presenting them.
While I strive for thoroughness and accuracy, I recognize that my research is both limited and hindered by a number of factors. Additions and corrections to any of the Spotlight features are both welcomed and appreciated. Such information can be sent to me through the contact form. Please be sure to include your name and information source, so that I can give proper credit where it is due.
Thank you,
Michael Bradley