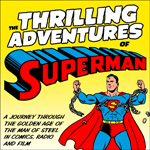 Welcome to episode 72 of The Thrilling Adventures of Superman. The show's mission is to explore the history and development of the Superman in his formative years by chronicling the Man of Steel's Golden Age adventures in comics, radio and film.
It's the thrilling return of Jimmy Olsen as Michael looks at the 13th storyline from the Superman radio serial. Everyone's favorite copy boy calls on Clark Kent to help him investigate a mystery at the home of his aunt, Louisa Horn, in a place called Lighthouse Point. But when Clark figures out that Louisa isn't telling all she knows, a far-greater mystery lurks just around the corner, including smugglers and the location of some ancient Chinese jade!
QUOTABLE:
"And if you do get a story up there, remember the paper that pays your salary!"
-Perry White
Download the episode directly. Or, you can subscribe to the show via iTunes or the RSS feed! Questions or comments? Additions or corrections? Drop a line! Share your thoughts on the episode and the issue. You can connect with show on Facebook and Twitter, as well, to get updates!
The Thrilling Adventures of Superman is also a proud member of the Superman Podcast Network. And don't forget to check out the Superman Homepage!