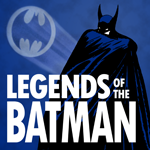 Welcome to episode 27 Legends of the Batman, the show covering everything Batman — from the beginning! The show's premise is a simple one. Each episode, we cover a month (or so) of Batman, be it comic books, television, movies, whatever, starting with his first appearance in 1939.
Michael Bradley and Michael Kaiser tackle part 2 of December 1940, and wrap up another year in the process! This time Batman investigates "The Secret Cavern" when he takes on criminals with an overly convoluted scheme to rob a gold vault in Kentucky in DETECTIVE COMICS #48.
Click here to see the post at BatmanLegends.com, the site's home base, to download the episode or subscribe to the show.