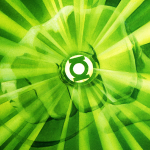 Welcome to episode nine of Green Lantern's Light! Each episode, we look at the stories of Hal Jordan, John Stewart, Guy Gardner and the entire Green Lantern Corps, beginning with GREEN LANTERN #172 from 1983.
Buckle in, folks, because the countdown to the end begins here. This episode, the guys look at GREEN LANTERN (Vol. 2) #193, 194 and 195 which wrap up the Star Sapphire story and then sends the Green Lanterns plunging head first into the epic Crisis on Infinite Earths! Plus: Guy Gardner! Uh-oh
Click here to see the post at GreenLanternsLight.com, the site's home base, to download the episode or subscribe to the show.