Welcome to the world of Tangent Comics — where you only know the names. Parallel Lines: A DC Comics Tangent Universe Podcast is a bi-weekly, issue-by-issue exploration of DC Comics' Tangent Universe events, hosted by Shawn Engel and Michael Bradley.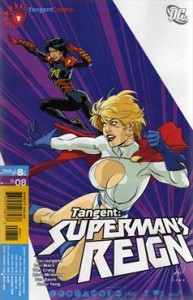 "You call yourself Superman? I don't think so."
Superman vs. Superman in a battle of philosophy and punches! Nuff said. Plus, the backup tale gives us an inside look at the Dark Knight of the Tangent Universe: Sir William, the Batman!
DOWNLOAD THE EPISODE directly, or subscribe via iTunes or RSS feed using the links below!
NEXT TIME: The Superman has made his move. How will the heroes of the DCU react? Find out in TANGENT: SUPERMAN'S REIGN #9!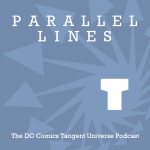 Never miss an episode: Subscribe via iTunes or the RSS Feed! All feedback is warmly welcomed. Send your thoughts to tangent(at)greatkrypton.com! Share your thoughts on the episode and the stories discussed. Seriously, we want to hear from listeners. You also can connect with us on Facebook to leave feedback and get show-related updates and content!