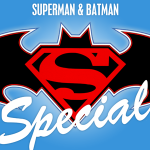 Welcome to a special presentation of SUPERMAN & BATMAN, featuring your two favorite heroes in one podcast together!
The show's premise is simple: Each episode, host Michael Bradley celebrates seven decades of the World's Finest heroes by looking at stories featuring the Man of Steel and the Dark Knight, chosen at random mostly from the pages of World's Finest Comics.
This episode
HAPPY BIRTHDAY, BATMAN
"… My Beginning … and My Probable End."
and "The Man Who Falls"
and "Batman Dies at Dawn"
GUEST HOSTS: Tom Panarese, of Taking Flight: A Robin & Nightwing Podcast; Michael Kaiser, formerly of Legends of the Batman; and Donovan Grant, of Next Dimension: A Dragonball Z Podcast and The Batman Universe!
ORIGINAL PUBLICATIONS: (see below)
WHAT TO EXPECT: Batman's life in a selection of fans' all-time favorite Batman stories illustrating why the character still resonates after 75 years!
ALSO FEATURING: Batman lauded and celebrated by longtime fans!
PLUS: Vignettes where Michael offers his thoughts on various facets of the Dark Knight's mythology!
Bonus feature
"… My Beginning … and My Probable End.," originally published in DETECTIVE COMICS #574 (cover date May 1987), has been reprinted in Batman: The Greatest Stories Ever Told, Vol. 1 trade paperback and Legends of the Dark Knight: Alan Davis hardcover.
"The Man Who Falls," originally published in SECRET ORIGINS OF THE WORLD'S GREATEST SUPER-HEROES trade paperback (cover date 1990), has been reprinted in Batman Begins: The Movie & Other Tales of the Dark Knight trade paperback and Batman: Secrets of the Batcave trade paperback.
"Batman Dies at Dawn," originally published in BATMAN #674 (cover date April 2008), has been reprinted in Batman: The Black Glove hardcover, trade paperback and Deluxe Edition hardcover.
DOWNLOAD: Directly or via iTunes
Fine print
Subscribe to the show via iTunes or the RSS Feed! Got questions or comments? Additions or corrections? How about a story suggestion? Drop a line! Share your thoughts on the episode and the issue. Seriously, I want to hear from listeners. You also can connect with show on Facebook and Twitter to send feedback and get show updates!
Superman & Batman is a proud member of the Superman Podcast Network. And don't forget to visit the Superman Homepage!