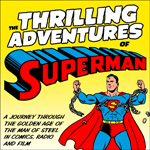 Welcome to episode 90 of The Thrilling Adventures of Superman. The show's mission is to explore the history and development of the Superman in his formative years by chronicling the Man of Steel's Golden Age adventures in comics, radio and film.
This episode, Michael is joined by Michael Bailey for a star-spangled look at four brand new and (mostly) awesome Superman stories from SUPERMAN #8. These stories see the Man of Steel taking on a plethora of foes, including towering giants, a murder wrap, carnival racketeers and the very justice system itself in his crusade as champion of the oppressed. It's, perhaps, the best issue of SUPERMAN yet. Don't miss out!
Be sure to catch Michael regularly on From Crisis to Crisis: A Superman Podcast, Bailey's Batman Podcast, Views From the Longbox, Radio KAL Live, a trio of shows (Comics Monthly Mondays, Back to the Bins and Walking Dead Wednesdays) at Two True Freaks and PADsmash: An Incredible Hulk Podcast. You can also find him in a non-podcast capacity via his blog, the Fortress of Baileytude, and reviews of ACTION COMICS at the Superman Homepage! A huge thanks once more to Mr. Bailey for coming on the show.
QUOTABLE:
"–And here's where I throw a monkey wrench into their well laid plans!"
–Superman
Links mentioned in the episode:
– "The Life Story of Superman" from ACTION COMICS #500 and the post-Crisis extended storyline "Superman: Exile" are among Michael Bailey's favorite Superman stories
– Batman Podcast Connection which you can find at BatmanPodcastConnection.wordpress.com (not the blogspot as your humble — and sometimes forgetful — host said in the episode).
Download the episode directly. Or, you can subscribe to the show via iTunes or the RSS feed! Questions or comments? Additions or corrections? Drop a line! Share your thoughts on the episode and the issue. You can connect with show on Facebook and Twitter, as well, to get updates!
The Thrilling Adventures of Superman is also a proud member of the Superman Podcast Network. And don't forget to check out the Superman Homepage!