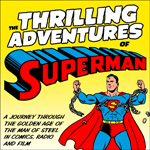 Welcome to episode 51 of The Thrilling Adventures of Superman. The show's mission is to explore the history and development of the Superman in his formative years by chronicling the Man of Steel's Golden Age adventures in comics, radio and film.
Cozy up by the fireplace and celebrate the season with the first-ever Thrilling Adventures of Superman Christmas Spectacular! In this episode, Michael shares two holiday-themed stories, a selection of Christmas music and some seasonal memories… all to brighten your holiday. Merry Christmas!
QUOTABLE:
We have to do something… give them some sense of hope.
-Superman
Links mentioned in the episode:
- Superman in the Bronze Age Christmas Special 2010
- "Jor-El, Jor-El" by Michelle Osorio
Download the episode directly. Or, you can subscribe to the show via iTunes or the RSS feed! Questions or comments? Additions or corrections? Drop a line! Share your thoughts on the episode and the issue. You can connect with show on Facebook and Twitter, as well, to get updates!
The Thrilling Adventures of Superman is also a proud member of the Superman Podcast Network. And don't forget to check out the Superman Homepage!