Welcome to the world of Tangent Comics — where you only know the names. Parallel Lines: A DC Comics Tangent Universe Podcast is a bi-weekly, issue-by-issue exploration of DC Comics' Tangent Universe events, hosted by Shawn Engel and Michael Bradley.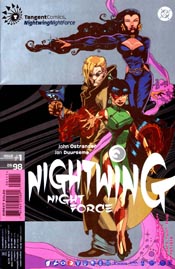 "We're in crash now!"
The no-good double-crossing sci-fi spies of Nighwing's Night Force are back for a second-helping of the good, the bad and the weird. But the rogue group of rogues is in for an even bigger shock when a visit from the Doom Patrol (crossovers, people!) leads them face-to-face with the the leader of sister group, Meridian! And you'll never guess who it is. So join us as John Ostrander and Jan Duursema reveal the big bad of the big bad with "Into the Fire!"
DOWNLOAD THE EPISODE directly, or subscribe via iTunes or RSS feed using the links below!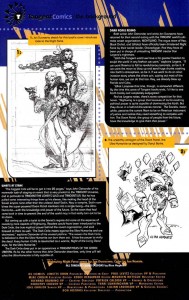 NEXT TIME: Some people call her the space cowboy; some call her the gangster of love. But we just call her the Joker; and she's back in THE JOKER'S WILD #1!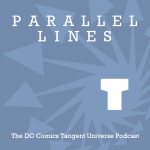 Never miss an episode: Subscribe via iTunes or the RSS Feed! All feedback is warmly welcomed. Send your thoughts to tangent(at)greatkrypton.com! Share your thoughts on the episode and the stories discussed. Seriously, we want to hear from listeners. You also can connect with us on Facebook to leave feedback and get show-related updates and content!