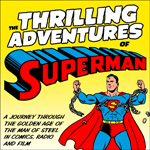 Welcome to episode 84 of The Thrilling Adventures of Superman. The show's mission is to explore the history and development of the Superman in his formative years by chronicling the Man of Steel's Golden Age adventures in comics, radio and film.
A series of strange accidents have struck the fair city of Metropolis! Michael looks at the 17th storyline from the Superman daily newspaper strip, Clark Kent is assigned to the case, but finds the "accidents" are anything but, leading to Superman tangling with the mysterious hooded saboteur behind them all. Also this episode, Michael presents a Spotlight on Superman artist Don Komisarow!
And don't forget, another episode of the show will be released on Friday, Aug. 17!
QUOTABLE:
I warned you not to oppose me, Man of Steel!
–The hooded saboteur
Intertitles for this story:
Three's a Crowd
Impasse.
Crashing the Gate.
Creeping Death!
Oops!
What — No Skeleton?
Red-Hot Scent!
He Gets Around
Consternation at the Station
Information, Please
Discovery
Superman Takes No Chances.
Lois in Danger!
Fair Warning
The Double-Cross.
Bomb-Proof!
Unmasked!
(Strips 514 and 523-534 do not have an intertitles in the reprint. Not all papers ran the intertitles and the source for this strips was one that did not.)
Download the episode directly. Or, you can subscribe to the show via iTunes or the RSS feed! Questions or comments? Additions or corrections? Drop a line! Share your thoughts on the episode and the issue. You can connect with show on Facebook and Twitter, as well, to get updates!
The Thrilling Adventures of Superman is also a proud member of the Superman Podcast Network. And don't forget to check out the Superman Homepage!