I love seeing random comic panels. Whether it be Superman, Batman, Aquaman or another hero, there's something very fun about brief, arbitrary looks into various eras and aspects of the character. I started the Super-Random Super-Panel feature over at Great Krypton! last May and have had a blast with it. To help spice up this blog and keep the content flowing in between longer, more meaningful posts, today we kick off the idea here with weekly random looks into stories written by Jerry Siegel, illustrated by Joe Shuster or, on very special occassions, both!
Appropriate for this inaugural edition, such is the case today: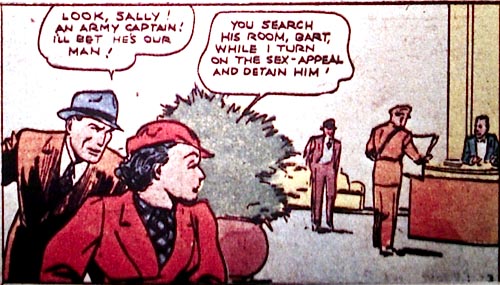 The woman in red is Sally Norris, partner and fiancée to Bart Regan, the lead character in Siegel's and Shuster's "Spy" feature. Sally was gutsy, independent and persistent. A proto-Lois Lane, minus the crazy, if there ever was one.