DC released their latest round of solicitations earlier this week, including one Siegel- and Shuster-related item. I mentioned this last month when it was originally announced, but now that it has been officially solicited, it bears repeating.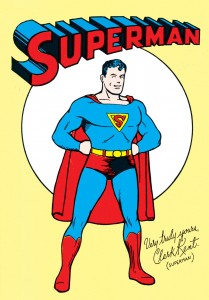 Due for release on June 5, SUPERMAN: THE GOLDEN AGE OMNIBUS, Vol. 1, will collect the Superman stories from ACTION COMICS #1-31, both issues of NEW YORK WORLD'S FAIR COMICS and SUPERMAN #1-7.
These 61 tales represent nearly every Superman comic book story from the character's first two years. Each one was written by Siegel, and a majority of them include artwork by Shuster. Other artists on these stories include Wayne Boring, Jack Burnley, Paul Cassidy, Paul Lauretta and more. (According to the solicitation, the volume also will sport a cover by contemporary artist Darwyn Cooke.)
Included in these historic stories are the first appearances of Superman, Clark Kent, Lois Lane, Lex Luthor, the Ultra-Humanite; the first comic book appearances of the Perry White and the Daily Planet; and much more.
While all of the stories have been previously reprinted in both the Archive Edition and Chronicles format, but this is the first time all of these stories have been packaged together. In fact, this volume of the largest collection of Siegel-written comic stories ever produced. It might be the only Siegel and Shuster material hitting shelves that week, but it's a big one.