Welcome to the world of Tangent Comics — where you only know the names. Parallel Lines: A DC Comics Tangent Universe Podcast is a bi-weekly, issue-by-issue exploration of DC Comics' Tangent Universe events, hosted by Shawn Engel and Michael Bradley.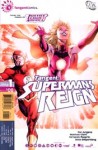 "Ten years. I guess the joke was on me."
The crossover 10 years — or at least 19 bi-weekly episodes — in the making is here! A return to the Tangent Universe finds a much darker world, and if that wasn't enough, two of the DC Universe's finest get stranded smack in the middle of it all. Plus, in a backup, the history of the Tangent Universe gets put under the microscope!
DOWNLOAD THE EPISODE directly, or subscribe via iTunes or RSS feed using the links below!
NEXT TIME: Questions are answered and more mysteries arise!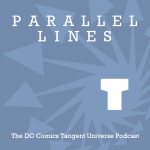 Never miss an episode: Subscribe via iTunes or the RSS Feed! All feedback is warmly welcomed. Send your thoughts to tangent(at)greatkrypton.com! Share your thoughts on the episode and the stories discussed. Seriously, we want to hear from listeners. You also can connect with us on Facebook to leave feedback and get show-related updates and content!