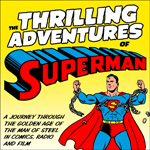 Welcome to episode 48 The Thrilling Adventures of Superman. The show's mission is to explore the history and development of the Superman in his formative years by chronicling the Man of Steel's Golden Age adventures in comics, radio and film.
A missing man and a mysterious house are the catalyst for this adventure as Michael is rejoined by Charlie Niemeyer for a look at the fifth storyline from the Superman radio serial. What follows is ancient natives, a mystical emerald, uncomfortable period dialogue and most certainly… a job for Superman!
And be sure to check out Charlie's podcast, Superman in the Bronze Age! A huge thanks once more to Mr. Niemeyer for coming on the show.
QUOTABLE:
You've seen a little magic already — just a very little! I call it the magic of Krypton! Now, you're going to see a lot more!
–Superman
The Superman radio show, obviously, doesn't allow for scans of images from the story. But, here's a picture of Frank Welker, who we talked about in one of the episode's tangents.
Download the episode directly. Or, you can subscribe to the show via iTunes or the RSS feed! Questions or comments? Additions or corrections? Drop a line! Share your thoughts on the episode and the issue. You can connect with show on Facebook and Twitter, as well, to get updates!
The Thrilling Adventures of Superman is also a proud member of the Superman Podcast Network. And don't forget to check out the Superman Homepage!