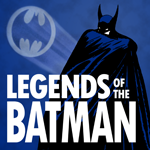 Welcome to episode 18 of Legends of the Batman, the show covering everything Batman — from the beginning! The show's premise is a simple one. Each episode, we cover a month of Batman, be it comic books, television, movies, whatever, starting with his first appearance in 1939.
This episode Michael Kaiser and Michael Bradley take on all Batman material released in August of 1940, where they find Bruce Wayne and Dick Grayson attempting to take a much needed vacation, but instead are forced to rescue a town from corruption in DETECTIVE COMICS #43.
Click here to see the post at BatmanLegends.com, the site's home base, to download the episode or subscribe to the show.