Welcome to the world of Tangent Comics — where you only know the names. Parallel Lines: A DC Comics Tangent Universe Podcast is a bi-weekly, issue-by-issue exploration of DC Comics' Tangent Universe events, hosted by Shawn Engel and Michael Bradley.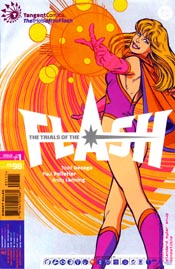 "What a triple-fab day! It is like totally poppins!"
She's back! Faster than a speeding bullet and, like, more fab than a (insert some hip teen thing here). She's the Flash, and someone's targeting her friends — again! Join the fun as returning Todd Dezago, and new art team Paul Peletier and Andy Lanning, take another visit to the world of the Flash and end up "Making Light of the Sitation."
DOWNLOAD THE EPISODE directly, or subscribe via iTunes or RSS feed using the links below!
NEXT TIME: More tales from the Green Lantern!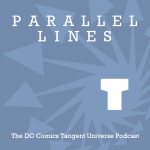 Never miss an episode: Subscribe via iTunes or the RSS Feed! All feedback is warmly welcomed. Send your thoughts to tangent(at)greatkrypton.com! Share your thoughts on the episode and the stories discussed. Seriously, we want to hear from listeners. You also can connect with us on Facebook to leave feedback and get show-related updates and content!