Archive for August, 2012
Action Comics
,
Clark Kent
,
Golden Age
,
Jack Burnley
,
Jerry Siegel
,
Joe Shuster
,
Leo Nowak
,
Lois Lane
,
Paul J. Lauretta
,
Podcast
,
Superman
,
Wayne Boring

|
Comments Off

on The Thrilling Adventures of Superman, Episode 87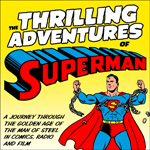 Welcome to episode 87 of The Thrilling Adventures of Superman. The show's mission is to explore the history and development of the Superman in his formative years by chronicling the Man of Steel's Golden Age adventures in comics, radio and film.
Clark Kent accompanies Lois Lane to the nearby town of Brentville. They find the town is, literally, a sleepy little town as everyone who enters inexplicably is sent to Dreamland. Can the Daily Planet's finest, with a little help from Superman, unravel the mystery? Find out as Michael looks at the Superman story from ACTION COMICS #31!
QUOTABLE:
"Tough guys, eh? I'll have to teach you a little lesson!"
–Superman
Download the episode directly. Or, you can subscribe to the show via iTunes or the RSS feed! Questions or comments? Additions or corrections? Drop a line! Share your thoughts on the episode and the issue. You can connect with show on Facebook and Twitter, as well, to get updates!
The Thrilling Adventures of Superman is also a proud member of the Superman Podcast Network. And don't forget to check out the Superman Homepage!