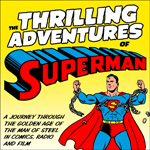 Welcome to episode 43 of The Thrilling Adventures of Superman. The show's mission is to explore the history and development of the Superman in his formative years by chronicling the Man of Steel's Golden Age adventures in comics, radio and film.
Giant vultures! Flame guns! Neanderthals! Ambiguous contraptions! Gas weapons! Bottomless pits! Bea Arthur*! These are the things Superman must face as Michael looks at the third storyline from the Sunday continuity of the Superman newspaper strip. It is a short four-strip story, but packed full of action! Also this episode, Michael dives into the mailbag for some listener feedback.
*Bea Arthur does not actually appear in this story. Sorry.
QUOTABLE:
This will teach you to pick on someone your own size!
–Superman
Download the episode directly. Or, you can subscribe to the show via iTunes or the RSS feed! Questions or comments? Additions or corrections? Drop a line! Share your thoughts on the episode and the issue. You can connect with show on Facebook and Twitter, as well, to get updates!
The Thrilling Adventures of Superman is also a proud member of the Superman Podcast Network. And don't forget to check out the Superman Homepage!