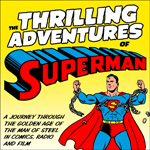 Welcome to episode 39 of The Thrilling Adventures of Superman. The show's mission is to explore the history and development of the Superman in his formative years by chronicling the Man of Steel's Golden Age adventures in comics, radio and film.
It's an episode that's been a long time coming, folks. This episode, Michael is joined by Charlie Niemeyer of Superman in the Bronze Age for a look at the first six episodes of the Superman radio show! We begin with the destruction of Krypton and follow Superman all the way through his first adventure on Earth! It's a great set of episodes and a great conversation worthy of Superman's first steps off of the printed page. Plus: This episode, Michael makes a big announcement concerning the future of the podcast!
And be sure to check out Charlie Niemeyer's podcasts, Superman in the Bronze Age and the forthcoming Podcast of Justice! A huge thanks once more to Mr. Niemeyer for coming on the show.
QUOTABLE:
Why, Jimmy… these are the cloak and the shield of Superman! If I become as other men, I shall dress as other men.
–Superman
The Superman radio show, obviously, doesn't allow for scans of images from the story. However, as mentioned in the episode, the first two episodes of the radio show were serialized in the January 1941 issue of Radio & Television Mirror. Here's a look at that cover, featuring a young Bob Hope.
Bob Hope went on to portray the Man of Steel in a Superman spoof in a 1946 episode of "Command Performance" (also starring Bela Lugosi and future-Uncle Oscar, Sterling Holloway). Hope would later meet the Man of Steel himself (see below) in the late '40s and the comic versions of both met in the pages of THE ADVENTURES OF BOB HOPE #92 from 1965, thanks to a little help from Bob Oksner and Arnold Drake!
Links mentioned in the episode:
– Michael J. Hayde's book, "Flights of Fantasy: The Unauthorized but True Story of Radio & TV's Adventures of Superman," can be ordered through its publisher, Bear Manor Media.
Download the episode directly. Or, you can subscribe to the show via iTunes or the RSS feed! Questions or comments? Additions or corrections? Drop a line! Share your thoughts on the episode and the issue. You can connect with show on Facebook and Twitter, as well, to get updates!
The Thrilling Adventures of Superman is also a proud member of the Superman Podcast Network. And don't forget to check out the Superman Homepage!