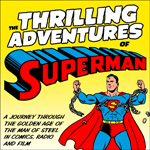 Welcome to episode 60 of The Thrilling Adventures of Superman. The show's mission is to explore the history and development of the Superman in his formative years by chronicling the Man of Steel's Golden Age adventures in comics, radio and film.
Professor Clarence Cobalt cooks up copious chicanery at his crooked clinic of quackery as Michael looks at the Superman story from ACTION COMICS #26. Superman makes a two-fold return to his social justice roots to deal with a pair of phony doctor — and prevent his victims from enacting their own brand of justice in this classic Golden Age tale.
QUOTABLE:
What were bars created for — except for Superman to bend!
–Superman
Links mentioned in the episode:
– Legends of the Batman, a podcast hosted by Michael Kaiser and Michael Bradley — now back from hiatus!
Download the episode directly. Or, you can subscribe to the show via iTunes or the RSS feed! Questions or comments? Additions or corrections? Drop a line! Share your thoughts on the episode and the issue. You can connect with show on Facebook and Twitter, as well, to get updates!
The Thrilling Adventures of Superman is also a proud member of the Superman Podcast Network. And don't forget to check out the Superman Homepage!