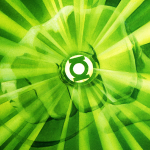 Welcome to episode 16 of Green Lantern's Light! Each episode, we look at the stories of Hal Jordan, John Stewart, Guy Gardner and the entire Green Lantern Corps, beginning with GREEN LANTERN #172 from 1983.
We're back! With an extra-deeeeluxe episode looking at seven huge issues. First up, we dive into the awkwardness and weirdness GREEN LANTERN CORPS #213-215. Then it's over to six great tales of little-known Lanterns in GREEN LANTERN ANNUAL #3. And we wrap up with a look at JUSTICE LEAGUE #2-4 as our very own Guy Garnder and the League deal with the threat of the Champions of Angor!
Click here to see the post at GreenLanternsLight.com, the site's home base, to download the episode or subscribe to the show.