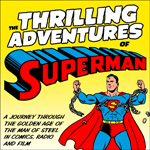 Welcome to episode 31 of The Thrilling Adventures of Superman. The show's mission is to explore the history and development of the Superman in his formative years by chronicling the Man of Steel's Golden Age adventures in comics, radio and film.
When destruction reigns in Metropolis and a scientist goes missing, Superman takes a hand (eventually) as Michael looks at the Superman story from ACTION COMICS #21. The issues sees Superman taking on the disasters, robots, the National Guard and more in a story that lets us bid farewell to Superman's most-frequent and nefarious foe, the Ultra-Humanite.
QUOTABLE:
I've got to halt that madwoman!
–Superman
Download the episode directly. Or, you can subscribe to the show via iTunes or the RSS feed! Questions or comments? Additions or corrections? Drop a line! Share your thoughts on the episode and the issue. You can connect with show on Facebook and Twitter, as well, to get updates!
The Thrilling Adventures of Superman is also a proud member of the Superman Podcast Network. And don't forget to check out the Superman Homepage!