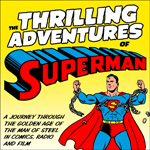 Welcome to episode eight of The Thrilling Adventures of Superman. The show's mission is to explore the history and development of the Superman in his formative years by chronicling the Man of Steel's Golden Age adventures in comics, radio and film.
This episode, Michael takes a look at the Superman story from ACTION COMICS #8. A group of troubled youths draw the attention of Clark Kent, leading Superman to not only confront the man responsible for luring the boys into his web of crime, but to also take on the larger problem driving these boys to the wrong side of the tracks. Superman's actions are a defining moment in the history of the Golden Age of Superman and leave the character in a place you might not expect — the most-wanted list! Plus, Michael also reads a couple iTunes reviews and talks about an overall improvement in the podcast.
QUOTABLE:
Thanks! — What I want right now is another poke at you!
–Superman
Download the episode directly. Or, you can subscribe to the show via iTunes or the RSS feed! The show has its very own Facebook page, as well, where you can get updates! The Thrilling Adventures of Superman is also a proud member of the Superman Podcast Network.
Questions or comments? Additions or corrections? Drop a line! Share your thoughts on the episode and the issue.