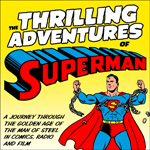 Welcome to episode 52 The Thrilling Adventures of Superman. The show's mission is to explore the history and development of the Superman in his formative years by chronicling the Man of Steel's Golden Age adventures in comics, radio and film.
Before closing out the year, Michael is joined by Charlie Niemeyer for a look at the four Superman radio serial auditions or "pilot" episodes. Originally put together in 1939, these recordings offer a look at the show's original conception and find Superman going up against a new menace in the form of the Shark!
And be sure to check out Charlie's podcast, Superman in the Bronze Age! A huge thanks once more to Mr. Niemeyer for coming on the show.
QUOTABLE:
Superman's friends don't drown!
–Superman
Download the episode directly. Or, you can subscribe to the show via iTunes or the RSS feed! Questions or comments? Additions or corrections? Drop a line! Share your thoughts on the episode and the issue. You can connect with show on Facebook and Twitter, as well, to get updates!
The Thrilling Adventures of Superman is also a proud member of the Superman Podcast Network. And don't forget to check out the Superman Homepage!