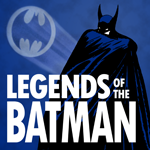 Welcome to episode 14 Legends of the Batman, the show covering everything Batman — from the beginning! The show's premise is a simple one. Each episode, we cover a month of Batman, be it comic books, television, movies, whatever, starting with his first appearance in 1939.
This episode, your hosts Michael Bradley and Michael Kaiser take on the first issue of Batman's very own book, as they examine Batman material released in April of 1940 and to help celebrate this important "first" in bat-history, the guys do a "first" for the show and bring in some guest hosts, Joshua Bertone, Donovan Grant and Jon Wilson, from Amazing Spider-Man Classics, to help then discuss DETECTIVE COMICS #39 and BATMAN #1!
Click here to see the post at BatmanLegends.com, the site's home base, to download the episode or subscribe to the show.