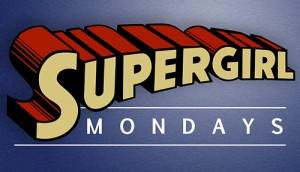 Supergirl Mondays is a weekly celebration of the Girl of Steel, who has graced the pages of DC Comics in a variety of forms for more than five decades.
This feature's primary focus is to take an issue-by-issue look back at Supergirl's adventures in the post-Crisis universe. From an artificial being on a mission to save her home world, to an Earth-born angel on a mission to save her soul, each Monday, before the airing of "Supergirl" on CBS, reflect on the earliest days of the incredible and winding journey of a frequently divisive, sometimes confusing, but always entertaining era for the Maid of Might.
---
This time out, we will be looking at two issues: DOOM PATROL #10 and SUPERMAN (Vol. 2) #20. The Doom Patrol issue, which features the first appearance (kind of) of the mysterious new Supergirl outside the pages of the Superman titles, was published the same week as ADVENTURES OF SUPERMAN #442 (see Supergirl Monday 5). However, because the Doom Patrol issue takes place between the panels of SUPERMAN #20, and because it adds little to Supergirl's story as a whole (and what it does add is meaningless without the context of the SUPERMAN issue), we'll be looking at both issues together.
In these issues
Issue: DOOM PATROL #10
Cover date: July 1988
Cover price: 75 cents ($1 Can./40p U.K.)
Cover by Erik Larsen and Jerry Ordway
Story: "The Soul of the Machine"
Issue: SUPERMAN (Vol. 2) #20
Cover date: August 1988
Cover price: 75 cents ($1 Can./40p U.K.)
Cover by John Byrne
Story: "Doom in the Heartland!"
Credits
DOOM PATROL #10
Paul Kupperberg, writer
Erik Larsen, penciller
Gary Martin, inker
J. Giels Workman, letterer
Tom Ziuko, colorist
Robert Greenberger, editor
SUPERMAN (Vol. 2) #20
John Byrne, story and pencils
Karl Kesel and Byrne, inks
John Costanza, lettering
Petra Scotese, coloring
Renée Witterstaetter, assistant editing
Michael Carlin, editing
Paul Kupperberg, kibitzing
Superman created by Jerry Siegel and Joe Shuster
Overview
Beginning in SUPERMAN, all parties are surprised when Lana Lang arrives at the Smallville farm of Jonathan and Martha Kent with the mysterious woman calling herself Supergirl in tow. The Kents are amazed seeing a young woman in a Superman-like costume able to lift a truck, while Supergirl is taken aback at the very sight of Jonathan and Martha, believing they were dead. As fragmented memories continue to swirl in her mind, Supergirl's eyes go white as she ominously determines to get to the bottom of things.
A short time later, Superman arrives in Smallville for a pre-arranged picnic lunch with Lana.
Over to DOOM PATROL #10, Clark and Lana begin their date, but Clark's super-hearing picks up a radio report of the Doom Patrol mixing it up with Metallo and flies off to help.
Back to SUPERMAN (Vol. 2) #20, Lana, still at the picnic spot, listens to radio reports of Superman becoming involved in the fight as it through Kansas City. Hearing that the battle isn't going as well as Superman had hoped, "Lana" makes a startling transformation.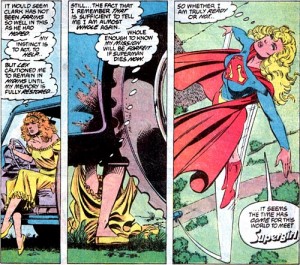 Shortly, however, the combined efforts of Superman and the Doom Patrol are able to stop Metallo's rampage without intervention by — or even knowledge of — the new Supergirl, who flies nearby, keeping tabs on the Man of Steel, as he flies back toward Smallville for a little R&R.
Thoughts
Though more pages and spread across two issues, this is essentially another vignette furthering Supergirl's story, but largely unconnected from the main story of the issue. The biggest revelation here, though, is that the new Supergirl also possesses some type of shape-shifting ability, having impersonated Lana during the picnic date with Clark.
Though that also ties one of the biggest puzzles presented these issues: How did Clark — with his super-senses — not recognize this wasn't Lana?
There's a bit of a leap, for those not reading DOOM PATROL #10, about how Superman became involved in the battle between the Doom Patrol and Metallo. To its credit, an editor's footnote in the issue does make it very clear that DOOM PATROL #10 takes place between two specific panels of the SUPERMAN issue. But still, for readers of only the latter, it would've been nice to provide a little more set-up for the transition.
I did appreciate, though, that all the elements of the Supergirl mystery were kept contained in the SUPERMAN issue, which helped prevent confusion for DOOM PATROL readers who chose to not pick up the SUPERMAN issue. They'd still lack a resolution of the conflict with Metallo, but weren't dragged into the beginning of a confusing mystery. Reading only DOOM PATROL #10, there's no indication there is anything more to Superman's picnic date with Lana than a way to bring him in to the story.
Also, it appears the coloring issues from SUPERMAN #19 (see Supergirl Monday 4) have resurfaced, as in the final panel for SUPERMAN #20, as her blue leggings and red hair have returned. Given the shape-shifting ability revealed this issue, is it possible Supergirl is changing her appearance? Or are these actually coloring mistakes not caught by the editor?
Whichever is true, one thing is clear: A collision between Superman and this mysterious new Supergirl is imminent!
Historical footnote
While not a factor in the Supergirl subplot, DOOM PATROL #10 features the first post-Crisis appearance of Reactron, a villain created by that issue's writer, Paul Kupperberg, in a trio of Supergirl stories from 1983! The character also was re-imagined in "Fight or Flight," the third episode from the first season of TV's "Supergirl!"
Upcoming
A blurb at the end of the story promotes a big reveal to come next issue: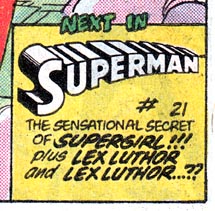 As does the next-issue chatter at the end of the letters column: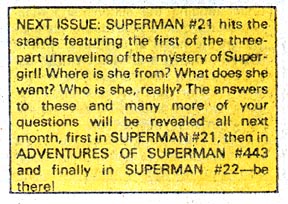 But wait, there's more
Despite containing no Supergirl content in the story itself, the next issue-blurb at the end of the letters column in ADVENTURES OF SUPERMAN #443 (cover date August 1988) also promoted the upcoming Supergirl-centric story.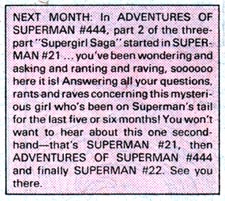 Next time on Supergirl Monday: The 'Saga' begins!