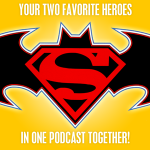 Welcome to episode 32 of SUPERMAN & BATMAN, featuring your two favorite heroes in one podcast together!
The show's premise is simple: Each episode, host Michael Bradley celebrates seven decades of the World's Finest heroes by looking at stories featuring the Man of Steel and the Dark Knight, chosen at random mostly from the pages of World's Finest Comics.
This episode
"Buried Alive!"
SPECIAL CONWAY'S CORNER CROSSOVER EDITION!
GUEST HOST: Aaron "Head" Moss of the Task Force X and Head Speaks podcasts!
ORIGINAL PUBLICATION: WORLD'S FINEST COMICS #269 (cover date July 1981)
WHAT TO EXPECT: Superman and Batman written by Gerry Conway!
ALSO FEATURING: Gerry Conway, Gerry Conway and, just possibly, Gerry Conway!
PLUS: A show of appreciation for Gerry Conway and the creators who gave us so much joy, plus a look at the book's other content — including a bonus review of the Red Tornado feature!
DOWNLOAD: Directly or via iTunes
Conway's Corner Crossover
Be sure to check out all the other shows involved in the Conway's Corner Crossover, celebrating the works of Gerry Conway!
– The Fire and Water Podcast, Episode 125: An interview with Gerry Conway himself! (And don't miss Conway's own blog!)
– Flowers & Fishnets, Episode 11: Reviewing the Green Arrow and Black Canary stories from WORLD'S FINEST COMICS #245!
– Super Mates, Episode 31: Examining tales from SUPERMAN FAMILY #186 and 187, featuring Lois Lane and the Supermans of Earth-1 and Earth-2!
– Mythmaking ETC's From Kid to Flash, Episode 18: A look at SECRET SOCIETY OF SUPER-VILLAINS #8 and 9!
– The Hammer Strikes, Episode 12: Reviewing THE MIGHTY THOR #224!
– Quarter-Bin Podcast, Episode 52: A double dose of Conway with JUSTICE LEAGUE OF AMERICA #188!
– Between the Pages, blog post: The sweet superhero stories of Gerry Conway!
– The Lanterncast, Episode 200: Featuring reviews of BRAVE AND THE BOLD #174 and SUPER TEAM FAMILY #12!
– King-Size Comics Giant-Size Fun, Episode 22: A discussion of DC SPECIAL SERIES #1!
– The Vault of Startling Monster Horror Tales of Terror, Episode 48: Covering TOMB OF DRACULA!
– Pop Culture Affidavit Presents: 80 Years of DC Comics, Episode 6: Looking at CINDER AND ASHE!
– Back to the Bins, Unnumbered Episode: Looking at AMAZING ADVENTURES #11 and AMAZING SPIDER-MAN #129!
– Head Speaks, Episode 11, Covering FIRESTORM #1 and #2!
– Comic Book Time Machine, Episode 49: They heard you like crossovers, so they put a crossover in your crossover so you can crossover while you crossover with SUPERMAN VS. THE AMAZING SPIDER-MAN!
– Task Force X, Episode 11, Reviewing ACTION COMICS #521!
– Hey Kids, Comics!, Episode 32, Sweet Christmas, it's Luke Cage in AMAZING SPIDER-MAN #128!
Fine print
Subscribe to the show via iTunes or the RSS Feed! Got questions or comments? Additions or corrections? How about a story suggestion? Drop a line! Share your thoughts on the episode and the issue. Seriously, I want to hear from listeners. You also can connect with show on Facebook and Twitter to send feedback and get show updates!
Superman & Batman is a proud member of the Superman Podcast Network. And don't forget to visit the Superman Homepage!