Welcome to the world of Tangent Comics — where you only know the names. Parallel Lines: A DC Comics Tangent Universe Podcast is a bi-weekly, issue-by-issue exploration of DC Comics' Tangent Universe events, hosted by Shawn Engel and Michael Bradley.
"I wonder what his unfinished task is. Let's see."
A trio of haunting tales reveal new aspects and hidden corners of the Tangent Universe as a mysterious, ageless figure known as the Green Lantern resurrects the dead to complete one final mission. It's tales of the unexpected — Tangent style — "From Beyond the Unknown" by fan favorites James Robinson, J.H. Williams and Mick Gray.
DOWNLOAD THE EPISODE directly, or subscribe via iTunes or RSS feed using the links below!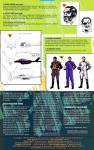 Backmatter from the issue (click to enlarge)
NEXT TIME: Youth must be served with The Flash #1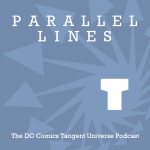 Never miss an episode: Subscribe via iTunes or the RSS Feed! All feedback is warmly welcomed. Send your thoughts to tangent(at)greatkrypton.com! Share your thoughts on the episode and the stories discussed. Seriously, we want to hear from listeners. You also can connect with us on Facebook to leave feedback and get show-related updates and content!