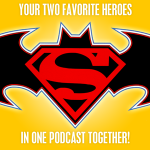 Welcome to episode 30 of SUPERMAN & BATMAN, featuring your two favorite heroes in one podcast together!
The show's premise is simple: Each episode, host Michael Bradley celebrates seven decades of the World's Finest heroes by looking at stories featuring the Man of Steel and the Dark Knight, chosen at random mostly from the pages of World's Finest Comics.
This episode
"Year Two: A Tale of Two Cities"
ORIGINAL PUBLICATION: Batman and Superman: World's Finest #2 (cover date May 1999)
WHAT TO EXPECT: Superman and Batman walk a mile in each other's shoes cities!
ALSO FEATURING: Angry Superman, grumpy Batman and foreshadowing!
PLUS: A look at the book's other content and what else was on the stands!
DOWNLOAD: Directly or via iTunes
Fine print
Subscribe to the show via iTunes or the RSS Feed! Got questions or comments? Additions or corrections? How about a story suggestion? Drop a line! Share your thoughts on the episode and the issue. Seriously, I want to hear from listeners. You also can connect with show on Facebook and Twitter to send feedback and get show updates!
Superman & Batman is a proud member of the Superman Podcast Network. And don't forget to visit the Superman Homepage!