Welcome to the world of Tangent Comics — where you only know the names. Parallel Lines: A DC Comics Tangent Universe Podcast is a bi-weekly, issue-by-issue exploration of DC Comics' Tangent Universe events, hosted by Shawn Engel and Michael Bradley.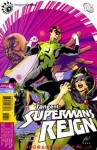 "Still willing to honor those who died fighting this tyrant?."
Batman sets out to find out more about the Tangent Universe, but does what he finds out add up? Plus, as those opposed to the Superman's steel-fisted reign come together, Lori Lemaris makes a decision about her future! Also, the backup tale sheds some — pun alert — light on the Green Lantern!
DOWNLOAD THE EPISODE directly, or subscribe via iTunes or RSS feed using the links below!
NEXT TIME: The good guys start their assault on on the Superman, but the Superman has his own goals with SUPERMAN'S REIGN #7!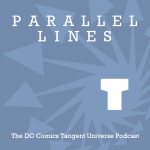 Never miss an episode: Subscribe via iTunes or the RSS Feed! All feedback is warmly welcomed. Send your thoughts to tangent(at)greatkrypton.com! Share your thoughts on the episode and the stories discussed. Seriously, we want to hear from listeners. You also can connect with us on Facebook to leave feedback and get show-related updates and content!