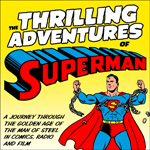 Welcome to episode 56 The Thrilling Adventures of Superman. The show's mission is to explore the history and development of the Superman in his formative years by chronicling the Man of Steel's Golden Age adventures in comics, radio and film.
Charlie Niemeyer is back as he and Michael look at the seventh storyline from the Superman radio serial. Clark Kent is enlisted to aid in solving the mystery of some airplane disasters — and when Jimmy Olsen tags along, both our favorite cub reporter and the Man of Steel get much more than they bargained for! It's a fun (if not somewhat maddening) six-episode tale as Superman deals with feral gorillas, rock slides, confused writers and more!
And be sure to check out Charlie's podcast, Superman in the Bronze Age! A huge thanks once more to Mr. Niemeyer for coming on the show.
QUOTABLE:
Gosh, Mr. Kent! Don't tell me you licked the strongman!
–Jimmy Olsen
Download the episode directly. Or, you can subscribe to the show via iTunes or the RSS feed! Questions or comments? Additions or corrections? Drop a line! Share your thoughts on the episode and the issue. You can connect with show on Facebook and Twitter, as well, to get updates!
The Thrilling Adventures of Superman is also a proud member of the Superman Podcast Network. And don't forget to check out the Superman Homepage!