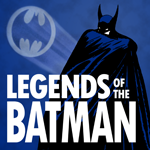 Welcome to episode nine of Legends of the Batman, the show covering everything Batman — from the beginning! The show's premise is a simple one. Each episode, we cover a month of Batman, be it comic books, television, movies, whatever, starting with his first appearance in 1939.
The guys are back with a look at DETECTIVE COMICS #35… and not only that, but the issue also sees the return of writer Bill Finger! Batman's co-creator returns in style pitting our hero against Hindus, Mongols and death traps galore — all while trying to unravel the mystery of a ruby idol's curse!
Click here to see the post at BatmanLegends.com, the site's home base, to download the episode or subscribe to the show.