About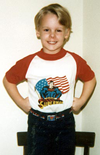 My name is Michael Bradley. Copy editor. Comic reader. Superman geek.
This site is a place for me to go on about all the things I love about Superman and to share geeky bits of minutia related to that. It also serves as home to Superman & Batman, a podcast where I celebrate more than seven decades of the World's Finest heroes, and The Thrilling Adventures of Superman, where I dive into the nostalgia and square-jawed awesomeness of the Golden Age Superman. Also here, you will find the the archives for my previous podcast endeavors, including Parallel Lines: The DC Comics Tangent Universe Podcast (co-hosted with the late Shawn Engel), Legends of the Batman (co-hosted with Michael Kaiser) and Green Lantern's Light (co-hosted with Jeffrey Taylor and J. David Weter).
I also post covers of comics I read (with occasional snarky commentary) to The Stack on Facebook, provide content for The Daily Superman and operate Siegel & Shuster: Mythmakers, a blog celebrating the lives, works and legacies of Jerry Siegel and Joe Shuster — both with Superman and beyond. And, believe me, there's a lot of "beyond."
I can't change the course of mighty rivers or bend steel in my bare hands, but I do spend my days as a mild-mannered employee of a great metropolitan newspaper and fighting a never-ending battle for truth, justice and "all that stuff."
Well, usually. Sometimes, I just read comics.
Either way, any questions, comments or suggestions, can be directed to me via the contact form.