Archive for June, 2012
Allen (Duke) Ducovny
,
Bud Collyer
,
Clark Kent
,
George Ludlam
,
Jack Johnstone
,
Podcast
,
Robert Maxwell Joffe
,
Superman
,
Superman (radio)

|
1 Comment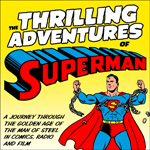 Welcome to episode 77 of The Thrilling Adventures of Superman. The show's mission is to explore the history and development of the Superman in his formative years by chronicling the Man of Steel's Golden Age adventures in comics, radio and film.
We won't bury the lede, folks. It's a weird one this time. This episode, Michael looks at the 15th storyline from the Superman radio serial. The Daily Planet's star reporter, Clark Kent, flies to Central America at the request of an explorer and on the hunt for a hot story. What results is thievery, plunder, looting and more! And when Superman's done with that, he finally gets around to accidentally saving the day! Well, kind of. Confused? Just wait 'til you hear it for yourself.
QUOTABLE:
"It won't hurt you if you talk!"
–Superman
Download the episode directly. Or, you can subscribe to the show via iTunes or the RSS feed! Questions or comments? Additions or corrections? Drop a line! Share your thoughts on the episode and the issue. You can connect with show on Facebook and Twitter, as well, to get updates!
The Thrilling Adventures of Superman is also a proud member of the Superman Podcast Network. And don't forget to check out the Superman Homepage!