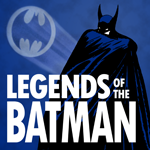 Welcome to the first earth-shattering episode of Legends of the Batman, the show covering everything Batman — from the beginning! The show's premise is a simple one. Each episode, we cover a month of Batman, be it comic books, television, movies, whatever, starting with his first appearance in 1939.
As this is the first episode, your hosts Michael Kaiser and Michael Bradley talk a bit more in detail about the show's premise and it's origin, as well as their own history with the Dark Knight. They then get down to business with a look at Batman's first appearance from DETECTIVE COMICS #27, which find Batman unraveling the mystery of murder and betrayal in "The Case of the Chemical Syndicate!"
Click here to see the post at BatmanLegends.com, the site's home base, to download the episode or subscribe to the show.