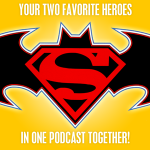 Get ready for the return of SUPERMAN & BATMAN, featuring your two favorite heroes in one podcast together!
After eight months without regularly released episodes, Superman & Batman is returning to contine its celebration of more than 70 years of the World's Finest team by looking at randomly selected stories featuring the Man of Steel and the Dark Knight — two of comics' foremost heroes.
The show returns Aug. 4, 2015!
DOWNLOAD: Directly or via iTunes
Help get the word out and win great comics! Retweet and share posts on Facebook, Twitter and Tumblr hyping the show's return or a new episode using the hashtag #superbatpodcast between now and Aug. 15, 2015, and be entered to win a copy of SHOWCASE PRESENTS: WORLD'S FINEST, Vol. 1! Every share gets your name entered in the drawing, so share often to increase your chances of winning. (More details in the announcement.)
Fine print
Subscribe to the show via iTunes or the RSS Feed! Got questions or comments? Additions or corrections? How about a story suggestion? Drop a line! Share your thoughts on the episode and the issue. Seriously, I want to hear from listeners. You also can connect with show on Facebook and Twitter to send feedback and get show updates!
Superman & Batman is a proud member of the Superman Podcast Network. And don't forget to visit the Superman Homepage!