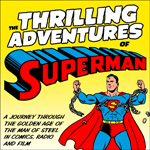 Welcome to episode 53 The Thrilling Adventures of Superman. The show's mission is to explore the history and development of the Superman in his formative years by chronicling the Man of Steel's Golden Age adventures in comics, radio and film.
We kick off 2012 with a trip back to the pages of ACTION COMICS, for a look at the Superman story from issue #25. Strange occurrences across town send Clark Kent after his latest scoop. But Lois Lane is after bigger fish when a man named Medini promises to reveal to her the true identity of Superman! Are the two connected? And how will Superman stymie both plots? Find out!
QUOTABLE:
The plane — falling to destruction… Lois aboard, no doubt!
-Superman
Download the episode directly. Or, you can subscribe to the show via iTunes or the RSS feed! Questions or comments? Additions or corrections? Drop a line! Share your thoughts on the episode and the issue. You can connect with show on Facebook and Twitter, as well, to get updates!
The Thrilling Adventures of Superman is also a proud member of the Superman Podcast Network. And don't forget to check out the Superman Homepage!