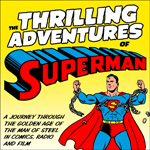 Welcome to episode ten of The Thrilling Adventures of Superman. The show's mission is to explore the history and development of the Superman in his formative years by chronicling the Man of Steel's Golden Age adventures in comics, radio and film.
It's the show's tenth episode and that marks the beginning of a new era in the show as Michael begins his look at the Superman daily newspaper strip! The story begins on a planet far from Earth and reveals, for the first time in detail, the origin of our hero. Jor-L and Lora are introduced and their tragic fate is revealed in a story that's only 12 strips long, but provides a roller coaster ride of emotion and drama.
Also, debuting this episode is a new segment, Spotlight, which will profile some of the many men and women who have shaped the legend of Superman over the last 75 years. Kicking things off this episode is the first of a two-part look at Superman's co-creator, writer Jerry Siegel!
QUOTABLE:
Lora, Krypton is doomed!
–Jor-L
Intertitles for this story:
– The Superman is Born
– Destruction Menaces
– Safe!
– The Terrible Truth!
– Krypton Doomed!
– A Solution
– No One Believes Him
– A Strange Ship
– Destruction!
– Speeding Toward Earth
– A Perilous Arrival
– The Superman is Here!
Links mentioned in the episode:
– Newspaper dailies at DCComics.com
– Charlie Niemeyer's Superman in the Bronze Age episode 14
Download the episode directly. Or, you can subscribe to the show via iTunes or the RSS feed! You can connect with show on Facebook, as well, to get updates! The Thrilling Adventures of Superman is also a proud member of the Superman Podcast Network.
Questions or comments? Additions or corrections? Drop a line! Share your thoughts on the episode and the issue.