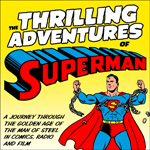 Welcome to episode 12 of The Thrilling Adventures of Superman. The show's mission is to explore the history and development of the Superman in his formative years by chronicling the Man of Steel's Golden Age adventures in comics, radio and film.
This time out, Michael looks at the second storyline from the Superman daily newspaper strip. It's a major storyline where we learn for the first time how Clark Kent landed his job at the Daily Star! The 18 strip-long story also features Superman meeting Lois again for the first time, and details one of our hero's earliest exploits (even if it is strangely familiar). Also in this episode, Michael concludes his two-part Spotlight on Superman's co-creator, writer Jerry Siegel.
And stay tuned for the end of the episode where Michael is joined by his friend Michael Kaiser for a special announcement about a guy who likes to dress up like a bat!
QUOTABLE:
Superman! — Jumpin' catfish!
–The editor of the Daily Star
Intertitles for this story:
– To the Rescue
– Just in Time
– A Strange Visitor
– Superman Gets a Job
– His First Assignment
– The Third Degree
– Superman in Action
– Superman Makes Him Talk
– A Little Gun Play
– Is Superman Late?
– Superman — Super Strength
– Flying Through Space
– Aerial Activities
– Unwelcome Passenger
– Victory and Danger
– Safe Again
– On Time
– His Reward
Links mentioned in the episode:
– Newspaper dailies at DCComics.com
– Legends of the Batman — a new podcast from Michael Kaiser and me, covering everything Batman from the beginning!
Download the episode directly. Or, you can subscribe to the show via iTunes or the RSS feed! You can connect with show on Facebook, as well, to get updates! The Thrilling Adventures of Superman is also a proud member of the Superman Podcast Network.
Questions or comments? Additions or corrections? Drop a line! Share your thoughts on the episode and the issue.