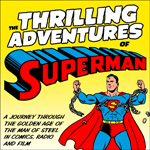 Welcome to episode 15 of The Thrilling Adventures of Superman. The show's mission is to explore the history and development of the Superman in his formative years by chronicling the Man of Steel's Golden Age adventures in comics, radio and film.
It's an epic slobberknocker as Michael returns to the daily strip for an 18-strip story that finds Superman meeting Larry Trent, a disgraced ex-heavyweight boxing champ, and decides to help him win back his former glory! Can Superman help Trent recapture "the eye of the tiger" to win back the title? Or will Superman just "help" him by drugging him, holding him hostage and winning the title back for him? Surprises, excitement and insanity are certain, that's for sure! Also this episode, Michael reads listener mail and gives the first of a two-part Spotlight on Superman's co-creator, artist Joe Shuster!
QUOTABLE:
Boy! If I stick with you, I'm really going places!
–Larry Trent
Intertitles for this story:
– The strips comprising this story did not have intertitles in the reprints. Not all papers ran the intertitles and it is possible the source for this strip was from one that did not.
Links mentioned in the episode:
– Newspaper dailies at DCComics.com
– Jack O'Halloran's boxing record from BoxRec.com. O'Halloran portrayed Non in "Superman: The Movie" and "Superman II."
– The cover to ADVENTURE COMICS #134, which resembles a scene from the story where Superman knocks out 11 opponents at once (see above).
Download the episode directly. Or, you can subscribe to the show via iTunes or the RSS feed! You can connect with show on Facebook, as well, to get updates! The Thrilling Adventures of Superman is also a proud member of the Superman Podcast Network.
Questions or comments? Additions or corrections? Drop a line! Share your thoughts on the episode and the issue.