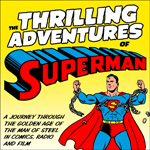 Welcome to episode 29 of The Thrilling Adventures of Superman. The show's mission is to explore the history and development of the Superman in his formative years by chronicling the Man of Steel's Golden Age adventures in comics, radio and film.
Metropolis' new district attorney sets out to clean up the town… and stirs up a hornets nest who doesn't take to kindly to it as Michael looks at the ninth storyline from the Superman daily newspaper strip! Our spunky gal reporter Lois Lane is hot on the story… and neck-deep in trouble — literally! Can Superman save the girl and the day? All this, plus Lois finally get her interview with Superman! This 30-strip story has it all, folks! Also in this episode, Michael presents a Spotlight on artist Paul Cassidy.
QUOTABLE:
I have dedicated myself to helping the oppressed — and seeing that truth and right triumph.
-Superman
Intertitles for this story:
- War on Crime
- Clark Wins a Bet
- A Signal
- Prepared For Action
- An Impertinent Query
- Superman Acquiesces
- Superman Grins
- Returning Bullets
- An Invulnerable Target
- A Swift Return
- Superman Acts as Valet
- The Confession
- A Tough Argument
- Look Out, Lois
- Spunky Lois
- Surprise!
- Hot News!
- Not So Fast, Lois
- A Better Way
- Superman Picks Up the Scent
- Just in Time
- Now What?
- Some of Their Own Medicine.
- Signed Confession.
- Watch Out, Superman!
- Lois is Curious
- Solitary Worker
- A Break For Lois
- On the Front Page.
- War!
Links mentioned in the episode:
- Newspaper dailies at DCComics.com
Download the episode directly. Or, you can subscribe to the show via iTunes or the RSS feed! Questions or comments? Additions or corrections? Drop a line! Share your thoughts on the episode and the issue. You can connect with show on Facebook and Twitter, as well, to get updates!
The Thrilling Adventures of Superman is also a proud member of the Superman Podcast Network. And don't forget to check out the Superman Homepage!
Tags: Clark Kent, Daily Planet, Dennis Neville, George Taylor, Golden Age, Jerry Siegel, Joe Shuster, Lois Lane, Morning Pictorial, Newspaper Daily Strip, Paul Cassidy, Podcast, Spotlight, Superman