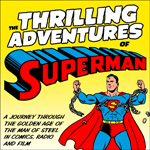 Welcome to episode 28 of The Thrilling Adventures of Superman. The show's mission is to explore the history and development of the Superman in his formative years by chronicling the Man of Steel's Golden Age adventures in comics, radio and film.
Michael is joined by J. David Weter of Superman Forever Radio for a look three excellent Superman comics. First up is ACTION COMICS #19 where a deadly plague wreaks havoc on Metropolis and Superman must confront the sinister force behind it all. Next up is SUPERMAN #3 which is mostly reprints, but brings some fun additions to Superman's history. And finally, David and Michael move on to ACTION COMICS #20, where Clark Kent goes to Hollywood and meets screen star Dolores Winters. But when Winters suddenly quits and turns to a life of crime… Superman has to find out why! And, boy, is it a shocker.
Be sure to check out J. David Weter's Superman podcast, Superman Forever Radio, as well as Xavier's Podcast For Gifted Youngsters, The Walking Dorks and his most recently announced effort, PADSMASH: An Incredible Hulk Podcast. A huge thanks once more to Mr. Weter for coming on the show.
QUOTABLE:
Next stop for this plane — eternity!
–Superman
Links mentioned in the episode:
– "What's So Funny About Truth, Justice and the American Way", from ACTION COMICS #775, is David's favorite Superman story.
– The cover to SUPERMAN #3 was paid homage to on the cover of SUPERMAN: THE MAN OF STEEL #81 by Jon Bogdanove and Dennis Janke.
– Images of the three Superman balloons from the Macy's Thanksgiving Day Parades can be seen at the Superman Homepage.
Download the episode directly. Or, you can subscribe to the show via iTunes or the RSS feed! You can connect with show on Facebook, as well, to get updates! The Thrilling Adventures of Superman is also a proud member of the Superman Podcast Network.
Questions or comments? Additions or corrections? Drop a line! Share your thoughts on the episode and the issue.