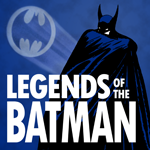 Welcome to episode 21 Legends of the Batman, the show covering everything Batman — from the beginning! The show's premise is a simple one. Each episode, we cover a month (or so) of Batman, be it comic books, television, movies, whatever, starting with his first appearance in 1939.
Michael B. and Michael K. continue their coverage of Batman material released in October of 1940, this time taking a look at the first story from BATMAN #3, where the Caped Crusader finds his strings being pulled as he is manipulated and mind controlled in "The Strange Case of the Diabolical Puppet Master!"
Click here to see the post at BatmanLegends.com, the site's home base, to download the episode or subscribe to the show.