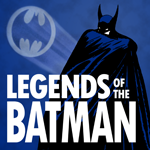 Welcome to episode 23 Legends of the Batman, the show covering everything Batman — from the beginning! The show's premise is a simple one. Each episode, we cover a month (or so) of Batman, be it comic books, television, movies, whatever, starting with his first appearance in 1939.
That felonious female fiend, the Cat, returns to vex the Dynamic Duo as Michael K. and Michael B. put the finishing touches on their look at BATMAN #3. A daring jewel heist gets the Batman on the trail of the Cat and a much larger conspiracy in "The Batman vs. the Cat-woman!" Plus, because you demanded it, this episode features a special return of Legends of the Batman Theatre with "The Batman Says!"
Click here to see the post at BatmanLegends.com, the site's home base, to download the episode or subscribe to the show.