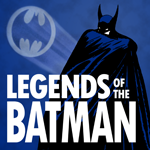 Welcome to episode 23 Legends of the Batman, the show covering everything Batman — from the beginning! The show's premise is a simple one. Each episode, we cover a month (or so) of Batman, be it comic books, television, movies, whatever, starting with his first appearance in 1939.
The two Michaels move forward in their quest to cover all things Batman by taking a look at his adventures in November of 1940, which is back to one book, DETECTIVE COMICS #46, where Batman and Robin face the return of a thought-dead villain, Hugo Strange, who tries to infect their city with a deadly fear toxin in the case of "Professor Strange's Fear Dust."
Click here to see the post at BatmanLegends.com, the site's home base, to download the episode or subscribe to the show.